Minh Phu Group: Diamond brand, heart of gold
Not only a Diamond Sponsor for Vietnam Shrimp Industry Technology Expo 2016, Minh Phu Group has shown a great vision and heart of gold when accompanying the Vietnamese shrimp industry with the experience and sharing of the enthusiasm of the brand "leading bird."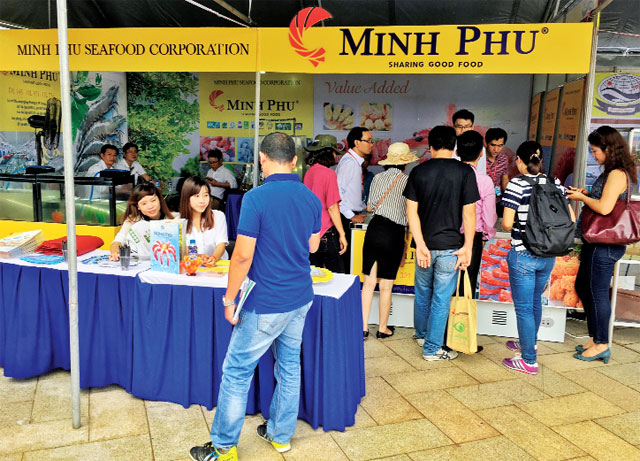 VietShrimp 2016 with the theme "Convergence to develop the shrimp industry", a meeting place for leading domestic and foreign names in seed, medicine, feed, biological products to export processing. Minh Phu is a leading corporation in processing and exporting shrimp of Vietnam's seafood. With many busy affairs and work to be solved, but the appearance of Chairman and CEO of the Group, Mr. Le Van Quang, is the clearest proof of Minh Phu's companion with VietShrimp 2016. Mr. participation from cutting the ribbon at the opening of the Fair, Photo Exhibition to contributing speeches at seminars.
Minh Phu Group's booth is unobtrusive but is designed and displayed subtly enough to show the level of a strong brand that has participated in international and domestic fairs, visitors are always busy. This is the first time Minh Phu has used the new brand identity system at a major event in Vietnam and has received positive feedback. Minh Phu also welcomed representatives of some well-known companies in the industry such as SIS Hawaii Parent Shrimp Company, KGM Shrine Exim Private Ltd. Shrimp Import and Export Company, India, and some big customers. from Hong Kong, Malaysia, China… In addition, large companies participating in the fair such as Viettel Group, De Heus Company… also visited and exchanged views on cooperation opportunities with Minh Phu. In particular, Minh Phu Group was also honored to welcome Professor – Dr. Kevin Fitzsimmons, Director of the International Program at the University of Arizona, USA. He is a professor with more than 30 years in the field of fishery, shrimp and tilapia; Former President of the World Aquaculture Society, WAS (World Aquaculture Society). He has over 30 years of international working experience with agricultural and fishery development cooperation in over 80 countries around the world. He directly flew from the US to Vietnam to attend and support Minh Phu in consulting and helping with disease-resistant shrimp seed production technology.
In the first discussion session: "Convergence to develop the shrimp industry", Chairman Le Van Quang presented the presentation: "Vietnam's shrimp industry needs to change to survive" attracting great attention and was evaluated. high. Many businesses have considered this as a "guideline" to research, practice, and find directions for sustainable development of Vietnam's shrimp industry.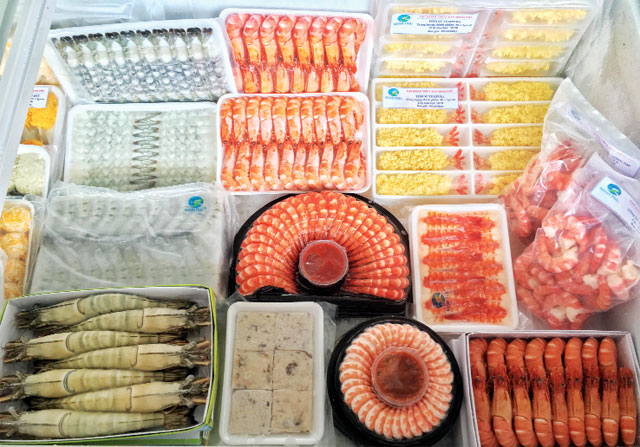 Talking with the head of the VietShrimp Organizing Committee – Dr. Nguyen Viet Thang, Chairman of the Vietnam Fisheries Association, Mr. Le Van Quang emphasized: Minh Phu Group will always accompany the Fair and suggest that the Organizing Committee should organize VietShrimp. once a year; Timely assess the advantages and challenges of Vietnam's shrimp industry during the year. Accordingly, find a timely solution; Create conditions for businesses and relatives to meet, listen to people's opinions, find a common voice to develop together; Create good products to be able to promote Vietnamese shrimp to the world. On behalf of the Organizing Committee, Dr. Nguyen Viet Thang sincerely thanked the attention and sharing of the Chairman of Minh Phu Group, looking forward to receiving the companionship and side of the Group and promising to study seriously. about this proposal.
Moon Nga