VIETNAM FISHINE TECHNOLOGY EXHIBITION FIRST – FISTECH 2023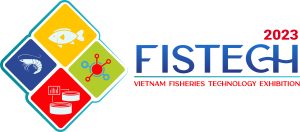 About Us
According to the Vietnam Fisheries Development Strategy to 2020, with a vision to 2045 approved by the Prime Minister, the common goal by 2030 is to develop fisheries into an important national economic sector, producing large goods associated with industrialization – modernization, sustainable development and proactive adaptation to climate change; have a reasonable structure and organizational form of production, high productivity, quality and efficiency; ensure social security; contributing to ensuring national defense and security, maintaining the country's independence and sovereignty over sea and islands.
Vietnam's seafood industry exports billions of dollars each year to the economy, creating jobs for millions of workers, contributing to the development of the agricultural and rural economy. However, Vietnam's seafood industry also faces difficulties in disease, productivity, and product quality.
To solve the problems of the seafood industry, the development and application of science and technology is one of the key and important solutions, deciding to increase productivity, reduce costs, and increase fishing value. , aquaculture and seafood processing.
FISTECH is an exhibition on technology in aquaculture, introducing and updating the aquaculture community with advanced technologies that have been, are and will be applied.
With the theme "Potential – Technology – Efficiency – Sustainability", FISTECH 2023 wishes to act together and contribute to the development of the seafood industry. Bringing technology closer to aquaculture farmers, improving production value and productivity. At the same time, FISTECH 2023 will be a playground connecting researchers, businesses, industry associations and farmers…
TARGET
Applying new technologies to agricultural production in general and aquaculture production in particular has become an indispensable trend today. FISTECH will be a new playground, specialized in technology in aquaculture.
With the spirit of spreading the message and connecting businesses, FISTECH is a place where seafood businesses, researchers, and aquaculturists can exchange, exchange, connect and share. Thereby, promoting the development of the industry as well as business activities and product consumption.
Contributing to improving and renewing thinking in aquaculture activities, promoting the aquaculture industry to develop in the direction of high technology. Farmers can visit, approach and learn most closely with modern farming technologies and processes.
TIME – LOCATION
Duration: From 06 – 08/06/2023
Location: Quang Ninh Province Planning, Fair and Exhibition Palace
Address: Tran Quoc Nghien Street, City. Ha Long, Quang Ninh province
Program overview:
The main activities of the Expo 2023 FISTECH include:
Exhibition:
8,000+ visitors
–    Staging: The booth will be staged in two forms: Standard booth and Design booth.
–     The accompanying services: Design printing, transportation of goods, fresh flowers, electrical equipment, tables and chairs.
Symposium: There will be 4 main seminars taking place from 06-08/06/2023