FISTECH Organizing Committee and Quang Ninh Fisheries Sub-Department: Meeting to discuss the plan to coordinate the organization of FISTECH 2023
Vietnam Fisheries Technology Exhibition 2023 (FISTECH 2023) will take place in 3 days, from July 19-21, 2023, in Ho Chi Minh City. Ha Long, Quang Ninh province.
Receiving guidelines and opinions on organizing FISTECH Exhibition from Quang Ninh Provincial People's Committee, on April 27, FISTECH Organizing Committee and Quang Ninh Provincial Fisheries Sub-Department had a meeting at the Sub-Department to discuss organization plan, ensuring FISTECH takes place on schedule and set goals. Mr. Do Dinh Minh, Head of Quang Ninh Fisheries Sub-Department, chaired the meeting.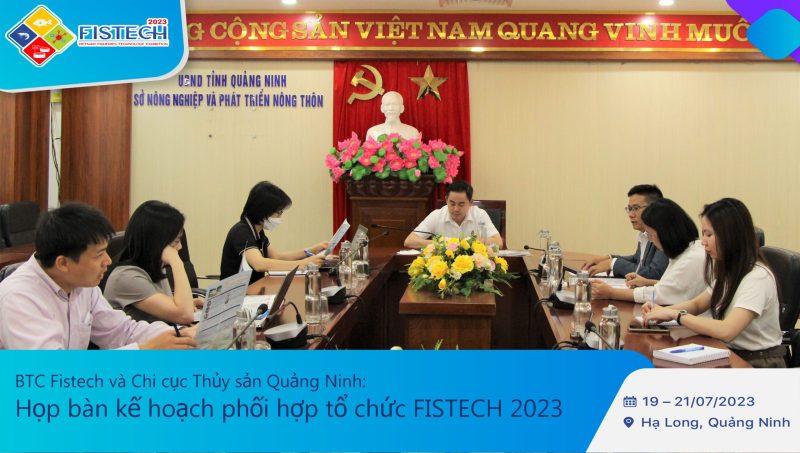 At the meeting, the representative of Digital Agriculture Service and Communication Joint Stock Company, the organizer of FISTECH 2023 reported the progress of the FISTECH 2023 Expo implementation and specific plans for the following months.
In particular, the FISTECH Organizing Committee pays special attention to the organization stage and is expected to work with the Department of Agriculture and Rural Development of a number of key provinces in the North and Central Vietnam to organize delegations to visit the Exhibition. Specifically, the Organizing Committee will finance tours to bring aquaculture farmers in localities to visit FISTECH, interact with exhibiting businesses, aiming to welcome from 6,000 to 6,000 people. 8,000 visitors attended in three days of the Exhibition.
Besides, the representative of Organizing Committee FISTECH also proposed some ideas, hoping that Quang Ninh province would coordinate and support.
Representative of Fisheries Sub-Department of Quang Ninh Province, Mr. Do Dinh Minh highly appreciated the significance and scale of FISTECH Exhibition. This is also an opportunity for Quang Ninh province to introduce and promote the achievements of the fisheries industry, one of the province's strengths, to business units as well as aquaculture farmers across the country.
"Currently, we do not have any Exhibition on technology for aquaculture industry, FISTECH will be the first Expo following this orientation. Quang Ninh province will closely coordinate with the Organizing Committee, focusing and determined to successfully organize the event of FISTECH Expo 2023, in order to build trust and advantages for the coming years," said Mr. Do Dinh Minh. conclude.
FISTECH 2023 is considered a major event of the seafood industry for the first time held in the North. Creating opportunities for aquaculture farmers in the North, Central Vietnam in particular and Vietnam's seafood industry in general to access more products, technologies and services in the industry, and also an opportunity for businesses to learn market, expand opportunities for cooperation and development.