Striving to become the aquaculture center of the North
Quang Ninh currently has nearly 7,000 hectares of farmed shrimp, of which about 4,000 hectares are industrially farmed and has become a locality with a large shrimp farming area in the north. Industrial shrimp farming models are mainly reared in the direction of improved, intensive, and super-intensive extensive farming, applying advanced technology to increase productivity much higher than conventional extensive shrimp farming models… bring high income.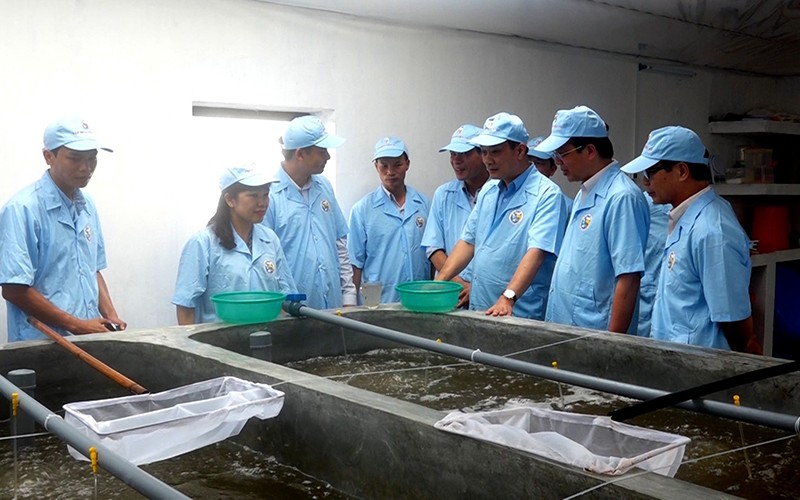 High-tech shrimp breeding tank of Viet Uc Quang Ninh Co., Ltd in Dam Ha district (Quang Ninh).
Over the years, Quang Ninh province has devoted a lot of resources to developing the aquaculture industry. Notably, the application of high technology and advanced techniques in shrimp farming has gradually brought high economic efficiency to people and businesses. This is also the direction that Quang Ninh province chooses to enhance the value and promote the potential of the local marine strengths.
As one of the leading localities in shrimp farming, Mong Cai city applies high technology to shrimp farming to improve production and quality of commercial shrimp. Shrimp farming facilities in the city have actively applied three-stage shrimp farming technology; biofloc technology; raise less water change; water circulation; Applying microbiological technology instead of antibiotics and chemicals for aquaculture… As a result, shrimp production has increased sharply, in 2020 and 2021, the city's farmed shrimp production will reach all levels. nearly 3,600 tons, worth about 390 billion VND, revenue reached 770 million VND/ha/year.
In recent years, shrimp farming businesses and people have shifted from extensive and improved farming methods to semi-intensive and intensive farming methods. High-tech shrimp farming models are widely applied in Quang Yen, Dam Ha, Tien Yen and Mong Cai and give an average yield of more than 10 tons/ha/crop; There are even models that have achieved farming productivity from 25 to 30 tons/ha/crop.
Quang Ninh province has implemented the project of a high-quality shrimp production complex in Dam Ha district, invested by Viet Uc Quang Ninh Co., Ltd. to actively supply high-quality seed with an area of ​​​​nearly 170ha. In 2019, the company put into operation the shrimp seed production area with a capacity of 8 billion shrimp/year and the algae production area, Artemia, international standard laboratory; the world's most modern automatic water purification system… put into operation for seed production in Quang Ninh and met the strict requirements of producing high quality seed. Currently, Viet Uc Quang Ninh Co., Ltd. is continuing to gradually increase the production capacity of shrimp seed and form a super-intensive commercial shrimp farming area to meet the demand of supplying shrimp seed to local and domestic shrimp farmers. neighboring localities.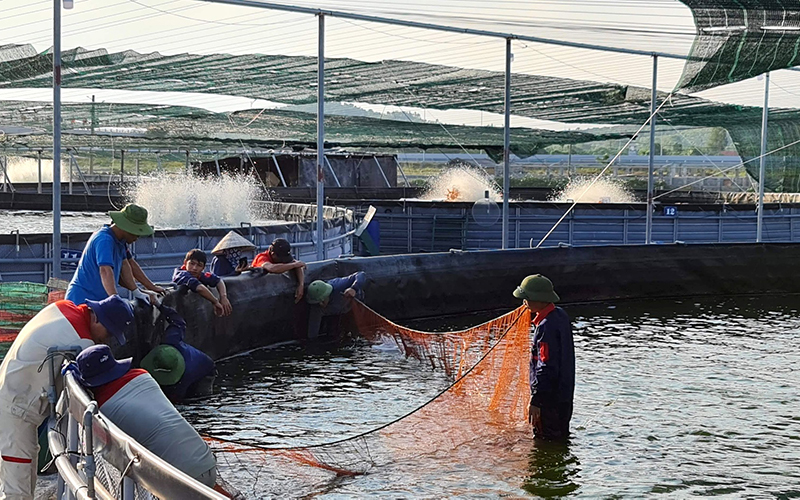 White leg shrimp farming in greenhouses in Quang Yen town for high productivity and quality.
Director of Quang Ninh Department of Agriculture and Rural Development Nguyen Minh Son said: Quang Ninh aims to increase aquaculture area, reduce fishing, especially focusing on industrial farming, intensive farming and super intensive farming. high-tech farming. We continue to advise the province to develop planning, create a stable land and water surface fund to attract businesses and people to invest in aquatic seed production, build hatchery facilities according to the linkage chain, and maintain Ensure that the seed is of clear origin and adapted to the rearing environment.
Currently, Quang Ninh province has basically been active in the source of shrimp seed, but the farming productivity is not high and not commensurate with the potential of the locality, especially the connection between production, supply and consumption enterprises. The situation is still weak, the situation of spontaneous aquaculture in some places is still there, the establishments that purchase and process shrimp and marine products have not really brought results. To overcome this limitation, Quang Ninh province has developed a sustainable aquaculture development strategy with development orientation to 2030, with a vision to 2045 striving to become a center for aquaculture, processing and export. seafood exporters of the North, focusing on rapidly developing key farming species, high-tech and new-tech shrimp farming.
Quang Ninh has 11 coastal localities, so far, eight localities have made detailed plans for saltwater and brackish water aquaculture including Van Don, Co To, Uong Bi, Mong Cai, Dam Ha, Tien Yen, Hai Ha, Ha Long with an area of ​​about 11,700 ha. Accordingly, the goal of Quang Ninh province by the end of 2022 is to complete the arrangement of concentrated shrimp and marine farming areas according to the planning; replace floating livestock used in marine aquaculture in accordance with regulations and relocate aquaculture facilities out of the core area of ​​Ha Long Bay. At the same time, tighten the management and licensing of aquaculture at sea; gradually eliminate the farming sites and areas not in accordance with the planning; encourage establishments and farmers to use environmentally friendly materials, develop industry, improve product value, and aim for processing and export.
Recently, Quang Ninh province coordinated with the Ministry of Agriculture and Rural Development to organize a conference to deploy shrimp production and sea farming in 2022, to discuss solutions to improve production efficiency, link value chains and attract investors. investment, develop the locality into an aquaculture center in the northern region.
According to Vice Chairman of Quang Ninh Provincial People's Committee Pham Van Thanh, Quang Ninh's goal of shrimp production and aquaculture in the coming time is to implement the aquaculture planning towards socialization and sustainability; creating a chain of links from production, processing to product consumption, towards large-scale and modern commodity production; application of high-tech, environment-friendly farming; rational, efficient and sustainable use of marine resources in association with regeneration and protection of aquatic resources.
Quang Ninh province sets a target that by 2030, the total value of seafood production in the province is estimated at more than 31 trillion VND, a double increase compared to 2020; total fishery production reached about 228 thousand tons; the total value of seafood exports reached about 487 million USD, creating jobs for more than 50,000 workers. The province strives to have at least three aquaculture zones and zones recognized as high-tech agricultural areas by 2025.