Northern – Central Aquaculture industry: "Playground" full of attraction
Never before has the aquaculture industry in the Northern and Central provinces seen such strong development in terms of area, productivity and output as it is now, becoming a potential and attractive "playground" for the aquaculture industry. seafood enterprises at home and abroad.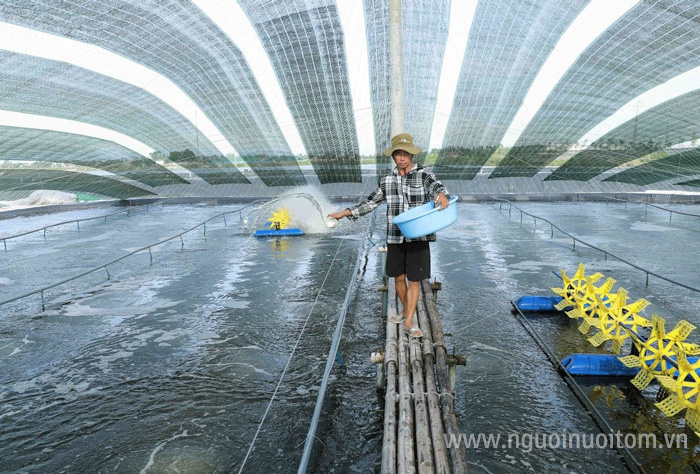 Promoting the strength of freshwater fisheries
The aquaculture industry in the Northern and Central provinces is gradually becoming one of the key commodity production industries, developing widely in the direction of investing in high-value, capable aquatic products. export, bring high efficiency. Aquaculture has brought into full play its natural potential, farmers are encouraged to raise high-quality aquatic products and invest in technology in production, converting ponds and lakes from improved extensive to intensive, semi-intensive, selective farming. less susceptible varieties. Aquaculture is developing quite well in all aspects: farming area is expanding, raising objects and farming forms are more and more diversified.
Currently, the North's aquaculture area is about 500,000 ha, of which freshwater culture accounts for 400.00 ha (80%), saltwater and brackish farming accounts for more than 70,000 ha. Some localities have strengths in freshwater fish farming such as: Hanoi, Hai Duong, Hai Phong, Bac Ninh…
In Hanoi, the situation of aquaculture production in recent years has developed stably, the area put into aquaculture in 2022 is estimated at 24,000 hectares. Total aquaculture production in 2022 is estimated at 123,108 tons, up 2.94% over the same period in 2021, of which aquaculture production is estimated at 121,413 tons, up 3.0%; seed production reached 1,350 million fry of all kinds, equivalent to the same period last year.
In 2022, Bac Ninh's aquatic production will reach more than 40,500 tons, forming 162 areas for fish farming in concentrated earthen ponds, 22 areas for raising fish in river cages, and 153 fish farming facilities according to VietGAP standards. The whole province has established 162 fish farming areas in concentrated earthen ponds with a scale of 10 ha or more with a total area of 2,757.6 ha; 20 areas for fish cage farming on the river; forming 9 models of raising river fish in ponds, many fish farming models applying biotechnology, without using antibiotics, super-intensive fish farming models bringing high economic efficiency.
In addition, the northern mountainous provinces also have hundreds of thousands of hectares of water surface in reservoirs, hydropower reservoirs, and irrigation reservoirs that can be developed for cage fish farming and reservoir fish farming. Hoa Binh is currently the province that raises fish in cages on the largest reservoir in the country with 4,750 cages, the output is 5,594 tons. In 2022, the aquaculture area in the province will remain stable on 2,700 hectares, with 4,890 fish cages, with an output of 12,170 tons.
Focus on investing in high technology application in saltwater and brackish water farming
According to Mr. Kim Van Tieu, Deputy Director of the Vietnam Agriculture Extension Center, compared with the South Central and Southern provinces, the northern coastal provinces from Quang Ninh to Thua Thien – Hue with characteristics are affected more. Because of the weather (low temperature in winter, storms and floods), the shrimp farming season is different from the southern provinces. Off-season commercial shrimp (crop 3) sold at a higher price than the main crop, motivating farmers to invest boldly and receiving the attention of leaders of the Ministry of Agriculture and Rural Development and local authorities.
High profit from whiteleg shrimp farming is the reason why shrimp farmers in the North and Central region are not afraid to invest large capital to invest in shrimp farming, apply high technology, to shorten farming time, improve productivity, farming efficiency. Walking around the local shrimp farming here, it is not difficult to see the ponds invested with tarpaulin, floating ponds, cement tanks and roof systems.
Quang Ninh is currently the leading province in terms of salt and brackish aquaculture production in the North with a total area of 32,000 hectares, of which brackish water shrimp farming area accounts for 8,865 hectares, molluscs about 9,500 hectares, and marine fish. about 2,200 hectares. As the leading locality in shrimp farming in Quang Ninh province, Mong Cai currently has 1,289 hectares of commercial shrimp ponds. These farming areas are all applied by organizations and individuals with high technology, such as: Three-stage shrimp farming technology; biofloc technology; raise less water change; water circulation; application of microbiological technology instead of antibiotics and chemicals for aquaculture, etc. As a result, the output and quality of shrimp in Mong Cai City has increased sharply year by year. In 2021, the city's farmed shrimp output will reach over 5,100 tons, worth over 400 billion VND. The province has a development orientation to 2030, with a vision to 2045, striving to become the center of aquaculture, processing and export of aquatic products of the North, focusing on rapidly developing key farming species, technological shrimp farming. High, new technology.
Ranked second in shrimp production in the North and Central region is Thanh Hoa, with 4,230 hectares of brackish water shrimp farming area, the output is estimated at 8,205 tons. In which vannamei accounted for 5,900 tons, farming area reached 630 ha; Black tiger shrimp and giant freshwater shrimp reached 2,305 tons on a total farming area of 3,600 hectares. Thua Thien Hue province strongly develops the farming of black tiger shrimp and giant freshwater shrimp with a total farming area of 2,514 hectares, with an output of 1,144 tons.
Enterprise "Northern Progress"
When the Western shrimp farming market is gradually becoming saturated, and seafood enterprises have built a reliable customer base, plus the potential and advantages of the North and Central markets have made many Enterprises seek to expand the market, invest in the North – where there is little competition and farmers are eager to find quality products and brands.
It can be seen that, in recent years, a number of large corporations investing in the shrimp industry in the North have brought certain successes and echoes. In 2019, after two years of signing a strategic cooperation agreement between Vietnam – Australia Group and Quang Ninh province, Vietnam – Australia has completed and put into operation the shrimp seed complex in Dam Ha, Quang Ninh, contributing to the reduction of Shorter transportation distance from hatcheries to ponds in Northern provinces helps shrimp seed become stronger and increases the success rate.
Besides Vietnam – Australia, C.P, Mavin, Hanvet, NewHope and DeHeus are also among the brands with a large market share in the Northern market. With the current northward trend of many businesses, it is certain that in the coming time, the northern market will become more vibrant and competitive.
In 2022, Thang Long Group signed a land lease contract in Cong Hoa Industrial Park, Chi Linh City, Hai Duong, sublease an area of about 5.5 hectares in Cong Hoa Industrial Park to build a food factory. seafood Thang Long Biology Technology Co., Ltd. Hai Duong. The project has a total investment of 790 billion VND, equivalent to 35 million USD, including 3 fish feed production lines and 1 shrimp feed production line, with a total capacity of 150 thousand tons per year, solving the make 250 employees. It is expected that, after officially put into operation, Thang Long brand will become a name covering the seafood market in the North and Central regions.
Besides, Minh Phu Group is also in the process of researching and proposing to implement a project to build a factory in the North in the near future.
In recent years, a number of shrimp seed companies have also stepped up investment in building hatcheries in Quang Nam to serve the North and Central shrimp seed markets such as Kim Hoang Aquaculture Seed Joint Stock Company, Investment Company Limited. South American Hi-Tech Seafood. The most recent is the presence of Duong Hung Mien Trung Seafood Joint Stock Company with a modern shrimp hatchery with a capacity of 5 billion posts per year. The company aims to establish a high-tech seed production center in each of the North, Central and South regions.
Some brands such as Ngoc Viet, Nam My, Duong Hung in the Central region, Than Vuong, etc. are starting to spread in the northern market recently. Recently, Ngoc Viet Company officially launched the campaign to accompany people in the North, Ngoc Viet Group's staff has come to Mong Cai – Quang Ninh, Thai Binh, Ninh Binh, Nam Dinh and Nghe An to together with his agent held a seminar to share the most urgent problems in shrimp ponds and give specific solutions for shrimp farmers.
It can be seen that the potential for aquaculture development in the North and the Central region still has a lot of room. Farmers have a good investment and the need to access quality brands and learn advanced farming techniques is huge. However, they are facing limitations in accessing market and product information. In order to solve this problem and contribute to improving the productivity and quality of farmed seafood in the North and Central regions, it needs great support from the government as well as the companionship from businesses.
Pham Hue