Technology: Solving inadequacies for the shrimp industry
[Shrimp Farmer Magazine] – With the theme "Application of science and technology for sustainable development of Vietnam's shrimp industry", the Vietnam Shrimp Forum 2022 held on July 15 in Bac Lieu province has collected attracted a large number of businesses, scientists, managers and shrimp farmers to attend. Deputy Minister of Agriculture and Rural Development Phung Duc Tien attended and delivered the opening speech.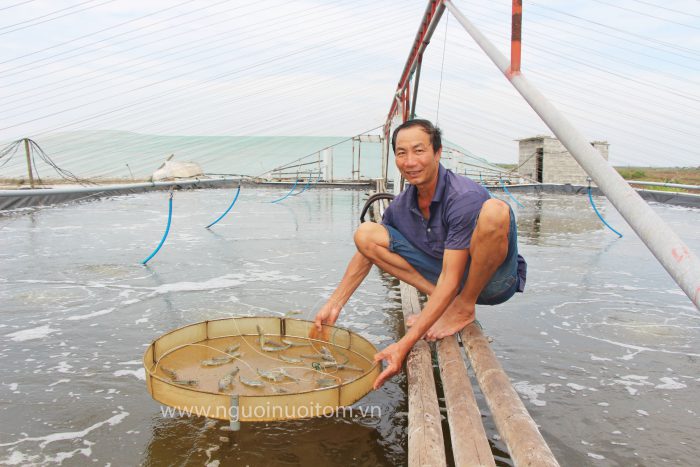 High-tech application of super-intensive shrimp farming has many advantages but also reveals many shortcomings that need to be resolved soon</p > Diverse science and technology solutions
Prominent and attracting the attention of shrimp farmers at the forum was "The process of raising white shrimp super intensive 2 stages according to Truc Anh technology" of Truc Anh Biotechnology Co., Ltd. The outstanding advantage of this model is that it does not use antibiotics and chemicals, but only uses microorganisms and biological products; Less water changes help reduce water treatment costs and contribute to the protection of water resources. Minimizing the phenomenon of premature death of 25-30 days old shrimp due to acute hepatopancreatic necrosis disease (AHPND), low feed conversion ratio (FCR) (0.9 -1.1), so the cost per kg of shrimp of 50 shrimp/kg is only about 65-72 thousand VND. The farming process is easy to implement, has high replication, can raise 3-4 crops/year and the annual yield can reach 80-120 tons/ha (pond farming).
Besides the process of Truc Anh company, businesses also brought to the forum many models, processes and scientific and technological solutions for the shrimp industry, such as: Shrimp farming technology that recirculates 100% of wastewater and waste of Haicorp company; Solution to replace antibiotics with immune booster for farmed shrimp of Olmix Group; Application of UV light in super-intensive farming of vannamei shrimp of UV Best Technology Co., Ltd; Applying 4.0 technology in monitoring the shrimp farming environment of the Silver shrimp company; Some scientific and technical advances in intensive shrimp farming in Vietnam by the Aquaculture Research Institute II… Especially, in the face of the hot situation of white feces disease, EMS and EHP are breaking out on a large scale in Vietnam. farming areas, Dr. Tran Huu Loc – Lecturer at the Department of Fisheries, Nong Lam University, Ho Chi Minh City, brought to the forum valuable information to clarify more about the origin, transmission mechanism, prevention measures, etc. of the above diseases. for each specific shrimp farming model. According to Dr. Loc, to well prevent the above diseases, it is essential that shrimp farmers should choose disease-free seed, improve ponds carefully, use microorganisms to inhibit harmful microorganisms, limit shrimp stress … right from the early stages of shrimp farming, especially in the rainy season like today.
There are inadequacies
In addition to the achievements, the application of new technologies and techniques to shrimp farming in our country still has many shortcomings, especially the success rate of shrimp farming is not high, making the production cost of Vietnam's shrimp always high. higher than some shrimp powers in the world, reducing competitiveness and ability to seize opportunities to dominate the market, especially during the period of world economic recovery after the Covid-19 pandemic. Therefore, speaking at the forum, Deputy Minister Phung Duc Tien suggested that scientists, businesses and shrimp farmers need to share and support each other to soon solve the above inadequacies in order to contribute to the future. improve production efficiency, promote shrimp industry to develop effectively and sustainably.
According to Mr. Le Tan Can – Vice Chairman of Bac Lieu Provincial People's Committee, Bac Lieu currently has over 4,000 hectares of super-intensive shrimp farming applying high technology with an average yield 10-15 times higher than the traditional farming method. Despite having a very high success rate, productivity and efficiency, the super-intensive shrimp farming model applying high technology over the past time has also revealed inadequacies that need to be resolved soon to promote the development of this model. The biggest shortcoming, according to Mr. Can, is that the infrastructure system in the farming area, such as irrigation for water supply and drainage, and 3-phase electricity, has not met the requirements of super-intensive shrimp farming with high-tech applications. The scale of farming households is still small, the technical level of farming is still limited, and especially the investment cost of super-intensive farming is very large, while most shrimp farmers lack capital but cannot access resources. bank credit. Therefore, Mr. Can hoped that, through the forum, delegates, units and businesses would come together to exchange and discuss solutions to overcome the inadequacies of the shrimp industry in order to promote the application of public science. technology and experience to develop the shrimp industry in accordance with the set goals and plans.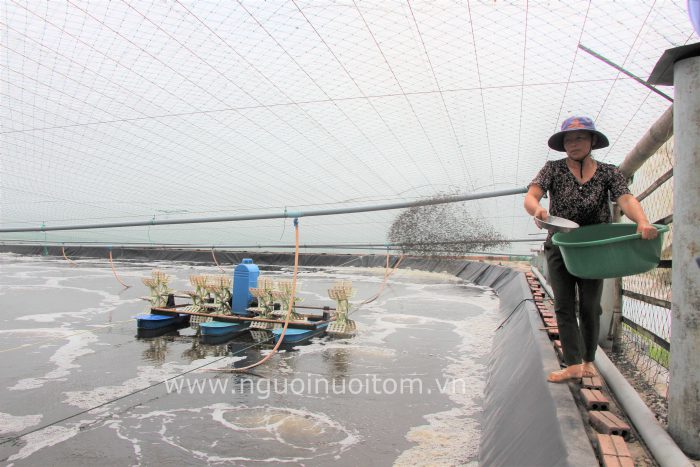 Despite having a very high success rate, productivity and efficiency, the super-intensive shrimp farming model applying high technology has also revealed over time. shortcomings.
Not linking would be even harder
Mr. Ta Hoang Nhiem – Chairman of Bac Lieu Shrimp Association affirmed that there will not be a standard process for shrimp farming, but depending on conditions and capabilities, farmers choose for themselves a farming model with scientific and technological solutions. Fit. In addition, in the context of increasingly difficult shrimp farming, shrimp farmers need to link and gather together to have the conditions to share experiences, increase financial potential, management capacity, and help save money. cost, cost and especially ease of application of scientific and technological advances to shrimp farming, helping to increase the success rate and convenience in traceability as well as shrimp farming according to international standards. Mr. Nhiem shared: "Without affiliation, shrimp farmers will face even more difficulties here, especially in terms of cost and price of farmed shrimp. In addition to linking according to cooperation models, shrimp farmers in the provinces also need to regularly contact and share with each other the disease situation, market prices, etc. to help limit risks and increase efficiency in farming. shrimp".
Commenting on the forum, Dr. Tran Dinh Luan – Director of the General Department of Fisheries said, this is an open forum, an information channel for farmers and businesses to share, learn from each other and help each other succeed. However, in order for farmers to be able to choose for themselves the appropriate model and process, science and technology transfer enterprises need to clarify the necessary and sufficient conditions for farmers to apply the process and model. Successful farming model should not be introduced in a general way. For shrimp farmers, Dr. Tran Dinh Luan further suggested that farmers need to take advantage of information technology to form groups to share with each other related issues of farming. Depending on the conditions and capabilities, it is decided to choose the appropriate size and form of investment, on the basis of understanding the environment, the market, science and technology, management ability… In addition, Farmers need to reorganize production in the direction of chain linkage to reduce intermediary costs and facilitate product traceability.
Hoang Nha